The big Almaty Lake and Cosmo-station
Добавлена: 8 march 2020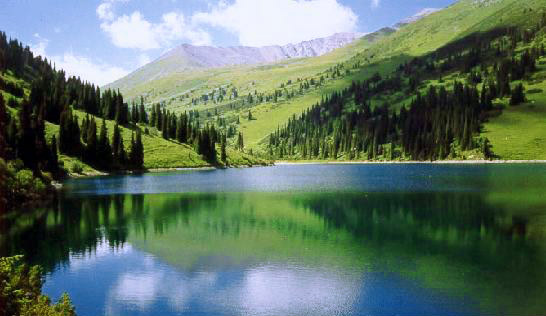 At a distance of 2.8 kilometers south of Almaty, which is 1 hour and twenty minutes of driving in one direction, is one amazing place in the city, which alluring tourists so much. The extraordinary beauty of the Big Almaty Lake will captivate you. BAL is considered to be the highlight of the Ile-Alatau Mountains, rising to 2510 meters above sea level and within the Ile-Alatau National Park. Due to its altitude, in summer the water temperature in the lake does not exceed 8 degrees.
When you rise above this wonderful lake located in the mountains, you will see the astronomic base. It is the highest point of the Big Almaty Lake, located at an altitude of 3200 m above sea level. Tourism has developed tremendously in BAL. For fans of ski resorts and free ride will be interesting to go skiing or snowboarding there. In the evening, enjoy dinner, dostarhan, and watch the stars and the heavenly bodies from the telescope. Summer time offers a wonderful opportunity to visit these places on a mountain bike.
The tour will acquaint you with all the beauties of the city and its attractions. Big Almaty Lake - is the place where you want to come back again and again, and our tour will convince you of this.
Program
An hour from the city, there is a beautiful gorge Alma Arasan .The gorge is protected by the state and is located in the Ile-Alatau National Park. After entering the park, you will discover a beautiful view of the valley and a scenic road that will lead you to the Big Almaty Lake. After a half-hour trips on the lake, you go further by the road to a height of 3000 m above sea level. Aerial view of the lake has an incredible color and changes depending on the weather and time of year. Next you will tour around Astronomic Station. You will see a very old research centers, telescopes, and the mountain peaks up to 6,000 meters. On the way back we visit the falcon farm, where you will see an amazing show with birds of prey, with the elements of national hunting.
Price for a group tour 47 USD per person (avaliable only on weekends)
Price for a private tour 110 USD per car (6 seats)
Big Almaty Lake+Observatory+Cosmostation 145 USD per car (6 seats)
Accommodation in observatory or guest house 20 USD per person
Meals 40 USD per person (lunch,breakfast,lunch)
We can also arrange ski slopes for advanced skiers and snowboarders, bicycle tours, from 3200 m. above sea level. You will be accompanied by a professional instructor.
Cost of the tour Free ride skiing and snowboarding 50 USD per person, minimum group 6 people. (From 3200 m + down to the lake)
Rent of Equipment 20 USD per person (ski,boots,poles)
Rent of avalanche equippement 100 USD per person (biper, equipped air bag)